Casa Sant'Elia
Private Luxury Villa
A DESTINATION
Casa Sant'Elia offers your very own private luxury accommodation, with five stunning bedrooms. The property sleeps up to ten people. Completely restored to an exceptional standard by the Avis family. The property boasts five spacious, well appointed bedrooms and three bathrooms all with complementary toiletries from Bodhi & Birch and Culti. The master bedroom boasts its own private terrace overlooking to surrounding countryside, the vineyard and private swimming pool.
Each guest is welcomed with a Sant'Elia welcome gift box.
The property has its own private outdoor swimming pool, barbecue, pizza oven, air conditioning, wifi and it is family friendly. Set in a rural location in Le Marche, it's 35 minutes from Ancona airport. A local restaurant and nearby town with a half hour drive to the beach. Sant'Elia offers tailored holidays and services for an additional fee. A Style consultant to guide and help you when visiting the fashion outlets. A cook and cleaner. Towel changeover. Fitness Training sessions.
You can also find us on Sawdays.
Accommodation
This idyllic home away from home has been lovingly restored with every room and detail with its guests in mind.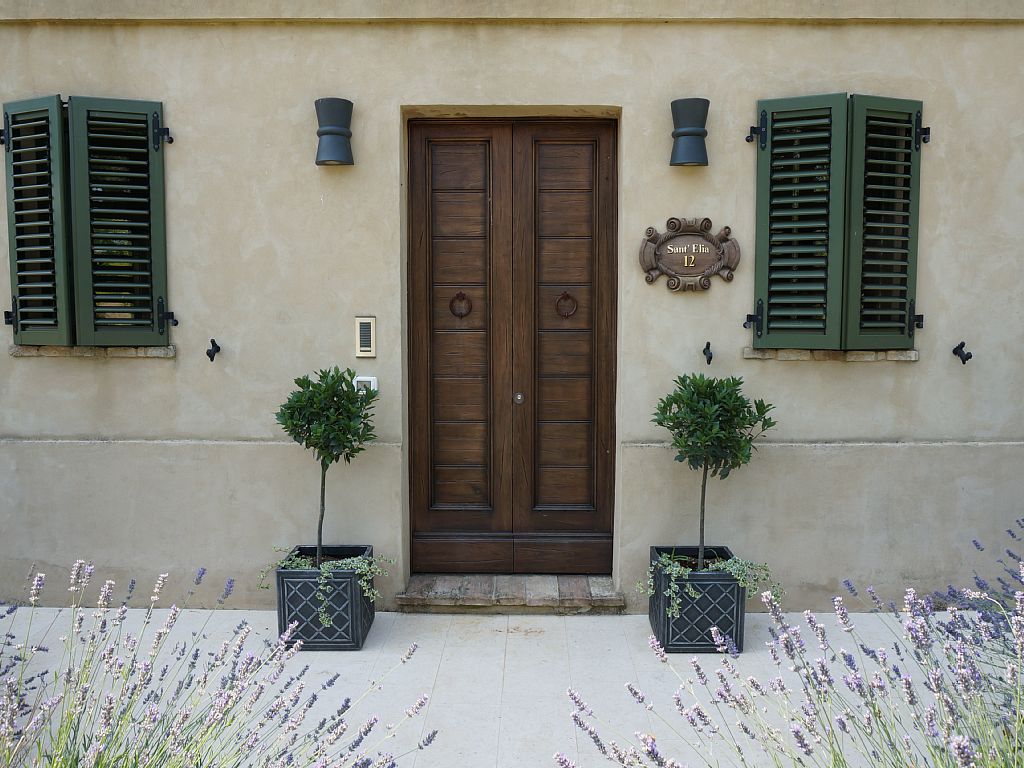 Casa Sant'Elia has been thoughtfully designed with its guests in mind. Hidden away, at the end of a winding, private white road, you'll find Casa Sant'Elia amongst breathtaking countryside and surrounding well kept gardens.
The property has a fully equipped kitchen, with everything you could possibly need and more. There are five bedrooms offering luxury in its finest form, with The White Company linens and Bodhi & Birch toiletries. Each bedroom is unique with its own style and personality, lovingly designed by Irene.
EXPLORE AND DISCOVER
Casa Sant'Elia is situated in one of the most beautiful, still undiscovered parts of Italy. Nestled in the heart of Le Marche, and just 10 minutes drive into the nearest town of Filottrano, where you can find a local vegetable and fruitier, bar and shops. Alongside a museum and plenty of places for sight seeing and exploring. The beach is just a 30 minute drive away.
The Vineyard
The extensive grounds at Casa Sant'Elia sits within its very own vineyard, where the Avis family grow and produce their own red and white wine and rosé.
Sant'Elia Olive Oil
Sant'Elia boasts just over 500 olive trees surrounding the property which the Avis family harvest themselves to produce its Sant'Elia Extra Virgin Olive Oil. It's smooth with a faint hint of pepper and an aroma of freshly mown grass presented in a beautifully packaged glass bottle.
Weddings
Casa Sant'Elia would like to welcome you for the most unforgettable day of your life. We cater for intimate weddings with up to 80 people.